Today I'll be writing about one of the most iconic film noirs ever:
Gilda
. It's an amazing film undoubtedly stoked with star power, unforgettable costumes, noir lighting, and one of the most remembered classic movie moments ever....Rita Hayworth shimmying around in that strapless black dress and opera gloves.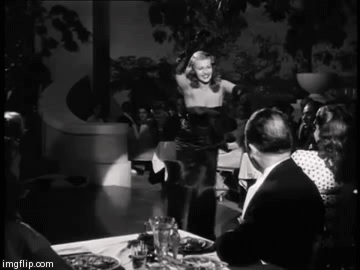 The 1940s were unquestionably the height of the film noir genre, with such films as Mildred Pierce, Rebecca, The Shanghai Gesture, Double Indemnity, and The Big Sleep all released throughout the '40s. The film noir world was usually stapled with lower, darker lighting then was found in other genres of film, such as a romantic comedy or musical. Compare; on the left is Rita in Gilda (film noir), and on the right is Rita in You Were Never Lovelier (romance musical).


On the left, shadows and little bursts of light are key, while on the right it's all bright and happy, matching the plot. The lighting style in film noir allowed for a mysterious environment for the action to take place, from a murder to a femme fatale using her wiles.
Speaking of which, a femme fatale also became a 'spokesperson' of sorts for film noir. Where film noir went, there was usually a femme fatale along as well. What is a femme fatale? The phrase comes from the French, and translated means 'fatal woman'. Generally the femme fatale character in a film noir is an attractive woman who leads men into troublesome or ruining situations. There is the occasional exception, but for the most part, that's who and what the femme fatale character is in a film noir.
______________________________________
Gilda was released in 1946, the middle of the decade when the film noir genre was in full swing. My ultimate hair goals girl Rita had been cast as the title character from the start, and the studio knew exactly what they were during with the publicity. In most advertising, even the movie poster, Glenn Ford (who played Johnny) didn't even appear; instead, the movie poster featured a full-length shot of Rita, with the words above her head, "There never was a woman like Gilda!!". The studio was using her in every way possible to publicize that film, but she certainly did steal the picture. If you mention Gilda to a random person today, most likely they won't remember anyone else who starred in it except for her, despite the point that everyone gave great performances. Her somewhat 'striptease' number (which involved removing one glove) turned into an iconic moment in the film world, and the black full-length gown (worn with a corset) and gloves also became famous for influencing the fashion world. Even in that Put the Blame on Mame number, I can't help but remember Rita's quote: "I think all women have a certain elegance that is destroyed when they take off their clothes." Rita took off one glove in that scene...one glove. And I don't think only taking off the glove hurt her popularity any; after the film was released, her nickname/title as 'The Love Goddess' was firmly set, and in 1947, her new contract at Columbia Pictures provided $250,000 plus 50% of all film profits. Rita, granted, did not particularly enjoy working at Columbia after a time, but the point I'm trying to make is that her popularity did not fade. She was quoted in a 1980s interview as saying, "Everybody else does nude scenes, but I don't. I never made nude movies. I didn't have to do that. I danced. I was provocative, I guess, in some things. But I was not completely exposed.". And I know I got off on a severe rabbit trail here, but this is just a little note to all those modern actresses/icons/stars/singers, etc: Stop what you're doing. It is not necessary to appear half-naked in a film or do whatever it is you do on stage at a concert to be popular. You're just giving yourself a reputation as a loose person. I don't mean any offense to anyone, but I really just wanted to say that.
Ok, getting back to the production of the film...
Gilda was filmed from September 4th to December 10th of 1945, and premiered early the next year, on February 14, 1946.
As for any trivia tidbits on Miss Rita, it has often been said that her introductory scene ("Sure, I'm decent") was shot twice, once in her famous off-the-shoulder white dressing gown, and another time in a dark skirt and striped blouse. Most of us know that her singing was dubbed by Anita Ellis in all of her singing scenes, with the single exception of the guitar version of Put the Blame on Mame, which Rita sung herself. This makes me slightly upset, only because I actually thought for a time it was Rita singing in all three numbers!! Oh, well... Rita's two-piece gown worn during the Amado Mio scene went up for auction last year at the TCM Classic Hollywood auction in December. It sold for $161,000. I just wanted to include that because I always love learning, myself, where the costumes are now. :)
Well, I guess I'll finish this slightly ramble-y post off with a GIF of Rita and that perfect hair of hers. I wholeheartedly recommend
Gilda
to all of you; it's the quissential film noir and the perfect introduction to the genre. I hope you enjoy it!
This is my contribution to the
Classic Movie History Project Blogathon,
hosted by Fritzi at
Movies Silently
, Aurora over at
Once Upon a Screen
, and Ruth of
Silver Screenings
.
This blogathon is divided into three sections and days: The Silent Era (June 26); The Golden Age (June 27; this is the one I'm in! :) ); and Modern Times (June 28).
Check out all the other wonderful contributions at the provided links! :)